Blue Light Blocking Glasses – Business Pro
December 27, 2018
Photochromic Driving Glasses – Men Classic
December 29, 2018
Photochromic Driving Sunglasses – Sport Drive
Rating
0 out of 5
Reviews (0)

Classic model


Photochromic (PhotoSolar)


UV400 Protection + Polarization


up to 90% less Eye Strain


Light and comfortable frame


Anti-glare protection


99% Happy Customers! See Reviews


CE/FDA/ISO9001/TUV Certifies Lens
Suitable for:

Daily driving


Driving in Fog


Prolonged use


Against Blinding


Against Eye Fatigue
Limited time Discounted price:
€59.99 €49.99

with hard case and cloth


15 days return policy
Free Shipping + Tracking (3-7 days)
DHL Fast Shipping (1-3 days) + €19


FREE DHL SHIPPING ABOVE €100
Photochromic Driving Sunglasses – Sport Drive
model SD3111
A classic sports model of men's driving glasses, driving in fog and anti-glare with photochromic (photo solar) lenses changing their color depending on the brightness and strength of the sun – frame color Black, the color of the lenses – light gray to dark gray/black with UV400 Protection and Polarization. They have fast-changing lenses, which guarantee good vision even on the brightest roads. You will have good vision in poorly lit parts of the roads as well.
The changing color of the driving glasses and the polarization reduces glare, reduces the chance of glare, and improves overall vision while driving. Photochromic (photo solar) or so-called helio matic glasses are very popular among all drivers who want to reduce all irritating external factors such as sunlight or glare while driving and still wear the glasses as sunglasses when they get out of the car.
Frame model: Classic Sports
Color: Black
Glass color: Variable (photochromic)
Advantages of night driving goggles:

for Daily driving


against Blinding
---
Vision without and with driving glasses
Test of photochromic glasses in strong sun. Glare from the sun can be a big problem when driving. The lenses remove the glares and make your vision more accurate. Also, your eyes get tired less. Up to 90% less eye fatigue.
Photochromic Driving glasses Sun Test
When taking the glasses out of the case, put a cover on half of the lenses and show the glasses to the sun. Wait 10 seconds on the strong sun and remove the cover. You will see the color difference and how the photochromic glasses work.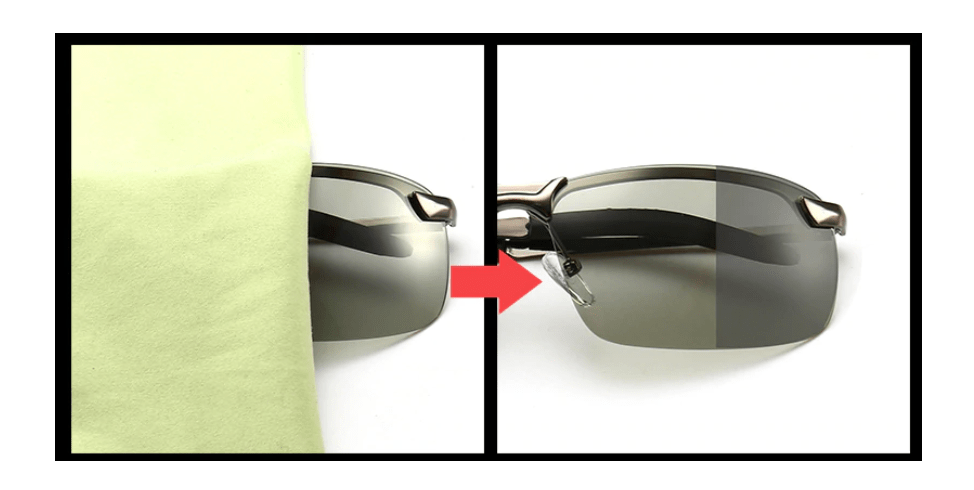 Changing lenses for maximum eye comfort while driving
Lenses change color when the sun is bright and return to normal transparency when there is no sun or when you wear the glasses indoors.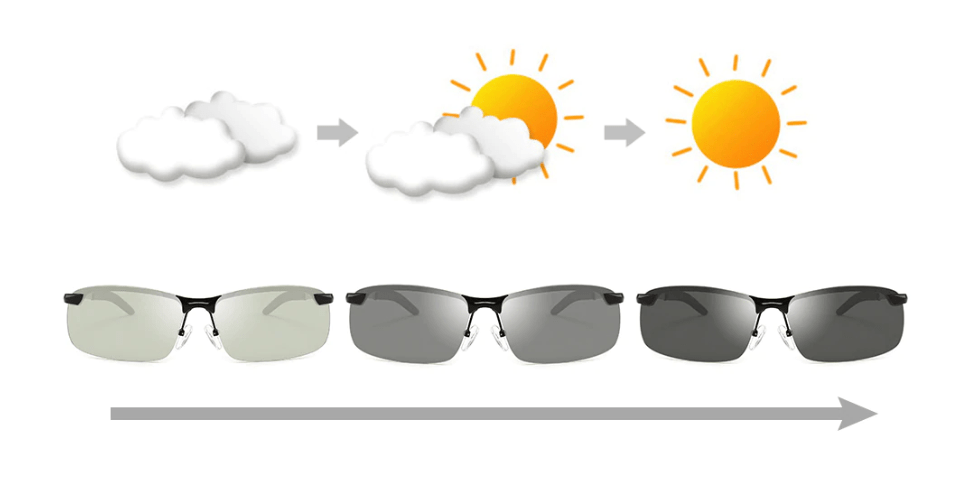 ---
Sizes of Photochromic (Photo Solar) driving glasses
Width of the glasses: 150 mm
Width of the glasses: 68 mm
Height of the glasses: 40 mm
Nose width: 14 mm
Length of the handles: 130 mm
Item Type: Driving goggles, Daily driving goggles
Frame color: Black
Suitable for: Men
Style: Classic
Glasses: UV 400 protection, Polarization, Anti-Glare, for driving in fog
Glass color: Variable (photochromic)
Safety Features: UV 400 Protection, Polarization, Anti-Glare, Fog Driving, Eye Fatigue
Frame material: Alloy
Model number: SD3111
Buy Photochromic Driving Glasses – Men Classic at a promo price
€59.99 Add to basket
Top models of men's driving Eyewear with protection at a promo price
Rating

0 out of 5

Reviews (0)

Rating

0 out of 5

Reviews (0)

Rating

0 out of 5

Reviews (0)
Related products
Rating

0 out of 5

Reviews (0)

Rating

0 out of 5

Reviews (0)

Rating

0 out of 5

Reviews (0)